SRK Number One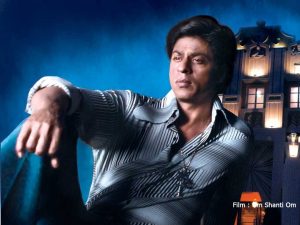 Shahrukh Khan tops Forbes' list of Indian leaders in Arab World. Shahrukh Khan, who recently launched the special Middle-East edition of Forbes magazine in Dubai, has been ranked No 1 in Top Indian Leaders in Arab World for his contribution to the entertainment industry. He is also gracing the cover of the magazine.
Farhan Akhtar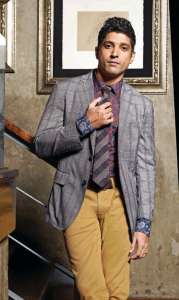 Farhan Aktar has been invited to take a master class at a film festival in London.
The event is a British Film Institute (BFI) special 'in conversation' event, with the London Indian Film Festival. It is Europe's biggest independent film festival.
The festival commences July 10 and ends on July 17. Farhan Akhtar, who has scheduled the shooting for Zoya Aktar's Dil Dhadakne Do at that time, has taken two days off from the shoot.
He will be flying to London on July 16 and be back on July 18. So he can be there for the last two days.
Due to Farhan Akhtar's multi -faceted personality, the subject of the conversation has not been defined. Farhan has a free hand in talking about everything from acting to direction to singing and writing.
Big names from the International industry have been associated with the BFI before and it is a huge honour for Farhan Akhar to have been invited by the same committee to share his valuable knowledge and experience on Films Filmmaking.
A lot of colleges like IIM, IIT, Harvard etc have been invited him for lectures. This time around the London Indian Film Festival has been keen to have him. Farhan's fans and popularity has grown two folds – in India and also internationally.
The actor has been highly appreciated for his fabulous performance in Bhaag Milkha Bhaag recently and has been receiving a lot awards this award season.
When contacted, Farhan's spokesperson confirmed the news. Lately, Farhan has been busy with band concerts and he will begin shooting for sister Zoya's Dil Dhadakne Do soon.
Humpty Sharma Ki Dulhania'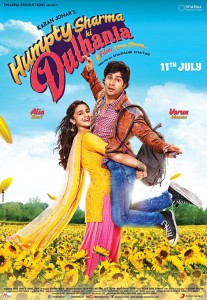 After the success of their debut film together, 'Student of the Year' pair, Alia Bhatt and Varun Dhawan are back onscreen in Dharma Productions' 'Humpty Sharma Ki Dulhania'.
The trailer starts off with the muscled Punjabi lad, Humpty dreaming about feisty Kavya with 'Mud mud ke na dekh' playing in the background.
The couple was the talk of the town owing to their crackling chemistry in their first film together, and this time it looks even more promising.
While Varun plays the simple boy looking for love, Alia is the headstrong, Delhi girl who knows what she wants. Also what's interesting is that she seems to be a Kareena Kapoor fan in the film.
Directed by Shashank Khaitan, 'Humpty Sharma Ki Dulhania' is said to be an ode to all-time love classic, 'Dilwale Dulhania Le Jayenge'.
The trailer ends with Varun Dhawan watching the last scene from 'DDLJ' with tears in his eyes.
Alia is playing a Kareena Kapoor fan. The film also starring popular TV actor Siddarth Shukla is releasing on July 11.
Kapil Sharma achieves 10 million likes on Facebook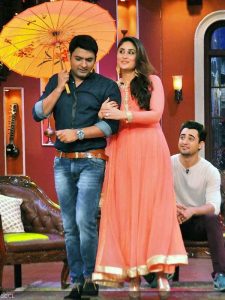 The rise of Kapil Sharma as a comedian on the small screen is meteoric. His latest show 'Comedy Nights With Kapil' which is less than a year old is already a huge hit. Recently the Facebook page of the program touched the milestone of 10 million likes and this is no joke. However, Kapil is smiling on his feast nevertheless.
Speaking about the achievement, Kapil said, "Our heartfelt thanks to everyone who likes our page and shares our content with their friends. Comedy Nights With Kapil is not only the number one show in terms of viewership, but now also in terms of fan base."
The comedy show is frequented by eminent Bollywood stars and cricket players along with other famous personalities from different fields. This is another reason and testimony to the rising popularity of the show. Kapil being the producer and host of the show is no doubt pleased as a punch with the Facebook results that certifies his efforts. Kapil went on to say about it that, "It's a signal of approval from the viewers on social media all across the globe that we are creating a product that people love to watch not only on TV but also consume it on other digital platforms like Facebook, Twitter, YouTube and the mobile app." He also added that, "My little hobby of making people laugh has grown into a flourishing content on television, one that I will strive harder to better even further."
We wish Kapil all the luck and after all we as an audience need a little laugh too. Kapil is doing a pretty good of bringing the laughter in our drawing rooms. A smiling Sidhu Paaji must be nodding his head in agreement in the background somewhere. However, Sidhu's comment on the feast of reaching 10 million magic figure is not yet forthcoming.
Kapil Sharma plays the role of Bittu in 'Comedy Nights With Kapil', an average Indian male. TV actress Sumona Chakravarty plays the role of Bittu's dumb wife. The role of the mischievous dadi is played by comedian Ali Asgar and the role of bua is portrayed by Upasana Singh.
Earlier Sunil Grover who played the popular role of Gutthi in the show left to start his own show, named 'Mad in India'. But the show didn't run well and now rumors are high that Sunil may once again return to 'Comedy Nights With Kapil'.