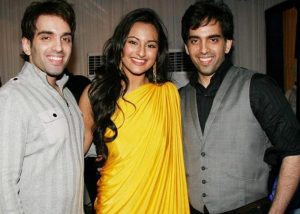 Luv, Kush Sinha shoots ad film with Sister Sonakshi
Kush, who has previously assisted likes of Sanjay Leela Bansali on 'Saawariya' and Abhinav Kashap on 'Besharam' and 'Dabaang', has recently taken on the mantle to shoot a new ad film with his sister Sonakshi.
Shatrughan Sinha's children-daughter Sonakshi and sons Luv and Kush-have worked together to create an ad film. Luv has produced it, Kush has directed it and Sonakshi features in the commercial.
Shot for a real estate brand, the commercial has been directed by Kush and is produced by Luv under Shotgun Movies banner.
"Our team developed the ad completely in house, form the initial conceptualization to execution the delivery, while keeping the client involved in the process on a creative level. Sonakshi's fans have liked the ad a lot," Kush said.
Kush, recently came out in support of his sister against Kareena Kapoor Khan's "housewife" comment on 'KWK' Kush defended Sona by saying: "There's nothing wrong with being a housewife. Haven't we all seen our mothers as housewives?"