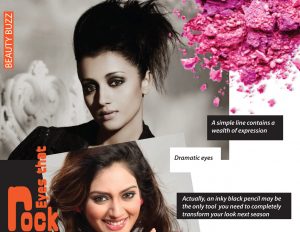 A simple line contains a wealth of expression.
In fact, an inky black pencil may be the only tool you need to completely transform your look next season.
Black eyeliner never goes out of style, but for this winter the way to wear it is drawn as close to your eyes as you can get it for a rebellious twist on the beauty classic. The focus point to note is the waterline – the area between your lower lashes and your eye. Apply your eyeliner here and push through your upper lashes to achieve the sultry, rebellious look. Brown cream shadow across the lids added depth. Forget pretty flicks or retro wings, it's all about a rebellious streak along the lower lash line or an almond shape in smudgy kohl.
teenagers using make-up for the first time, applying black liner all around the eyes and finishing with plenty of mascara.
Eye makeup can dictate how natural or dramatic your look is. Whether you want to learn a process you can use every day or look stunning for a special occasion, proper application of eye makeup is a useful skill that can both impress your peers and help you look and feel your best.
Whether you're heading out to a party or planning a night at home with friends, the following looks will help you to look good.
Shimmery eye shadow: If you're all about glitter and glitz, then a shimmery eye shadow is the perfect look for you.
.Just coat your favourite copper shadow on your lids. Then, to really make your eyes pop, brush on some silver shadow in the inner corners and skim a brown eyeliner on the lower lash line. Then brush on a couple of coats of mascara, and you're good to go.
Cat-eye liner is a universal make-up trick that looks great on just about everyone.
It is sometimes a struggle waking up in the morning, especially after having not-so-sound sleep. But one can fake the appearance of a good night's sleep with some cool make-up effects. From the power of eye-shadow to a mini-lesson in applying mascara, here are six bits of advice that can make anyone bright-eyed every single day, reports huffingtonpost.com.
And who better to tell us about them than the women on the streets of New York? Here are the tips from them:
– Use your nude liners: Jordan says, "(I use) a nude eyeliner on the inner water line because I'm exhausted all the time, and this takes out the redness and makes you look awake."
Get fuller lashes with powder: Emily says, "Sweeping powder over my eyelashes is a great way to make them thicker and elongate the wear of my mascara. I also like holding a piece of tissue underneath my bottom lashes when applying mascara to them; this protects my skin from being smeared with mascara while allowing me to be more thorough with the mascara application."
– Refresh with some eyedrops: Renee says, "I used to work for Kate Moss and Naomi Campbell, and this is a trick that all the models use – put in eye drops just before you have a photo taken, especially if your eyes are tired; and it wakes you up – your eyes look fresh and rested!"
– Double up on your product supply: Sizwe says, "I almost always wear more than one mascara, usually a combination of a lengthener and a thickener."
– Use a bright eyeshadow, like white, to fake a well-rested look: Jemma says, "I make my eyes look awake with lash-defining mascara and a little bit of white eyeshadow dusted on my eyes' inner corners."
– Perfect eye-opening winged liner, on-the-go: Kate says, "I start with a cat-eye and then I just blend. I put on both brown and navy. Navy went on this morning, and (then) I layered the brown on while I was on the subway, and continued to blend."
Cover your eyelid with white liner to make any eyeshadow shade pop.
To make a sheer or less pigmented eyeshadow appear more colorful on your eyelid, take a white eyeliner pencil, and run it over your entire eyelid. The opaque consistency of the liner will intensify any eyeshadow shade and make it pop instantly against your skin.
Draw your cat eye first, and then fill in the open space for a perfect winged liner application every single time.
It's much easier this way.
Hit your eyelash curler with a hair dryer to heat it up, so your lashes curl easier.
Blowing hot air on your eyelash curler will help your lashes curl easier and stay curled longer; it works the same way heat changes the pattern of your hair and holds a curl with a curling iron. To do it, hit the lash curler with your blow dryer until it heats up, wait until it cools slightly but it still warm (you don't want to be sure not to burn your eyelid skin), and then clamp down on your lashes to curl them. Once your lashes are curled the way you like them, apply your eyelash serum before adding mascara and then you're all good to go. The things we do to get the perfect look. But if it makes you happy and you feel good about yourself, that's all that matters.
Conceal dark circles and puffy eyes the right way by creating a triangle with your cover-up.
You might be a fan of dotting on your concealer in the spots you need it, but the best way is it to actually apply it in a triangular formation with the base of the triangle directly under your lashline and the point toward the bottom of your cheek. This shape helps conceal any redness at the bottom of your eye and at the sides, and then instantly creates the illusion that your face is lifted, since the brightest point is the most intense under your eye.
BEAUTY TIPS
Fill in water line in between your lashes. If you want blush to last longer use cream blush first, then powder blush on top. Use lipstick as blush if you can't carry it around. Just warm the lipstick up with your fingers and apply it to your cheeks.