Autumn is a season of great transformation and change, so as nature changes her appearance around us and its also a high time we look at change in our beauty techniques. Just as we try to ding to the fading lightness of summer we can sometimes cling to beauty techniques that no long suit our skin, our age or our environments. We go what we know, however tried it may be – its always worked for us before right? But with a little help we can transcend the fear finding a new look and comfortably move forward with the times.
Autumn is the perfect season to explore new beauty possibilities.
Autumn season calls not only for wardrobe change, but also the makeover of make-up kit. Make-up needs extra attention during the transitional time of the year and hence, you need to be very particular about the kind of products you choose. To keep in line with the theme, you can go for light bronzed glow, which gives the impression of a distant late summer holiday.
To achieve the perfect glow that isn't too intense, you can start with a primer. Next up is the all important base. For this time of year, foundation isn't necessary, so instead opt for a tinted moisturiser. Apply evenly with a brush or your fingers for best results. Complete your look by lightly dusting down the bridge of your nose, your chin, as well as your ears. You can even take what's left on your brush and sweep down your neck and collar bones for a uniformed finish.
*Eyes: Pack away your bright liners as autumn is all about toning it back down again. This time of year evokes coppery, warm thoughts and as the leaves begin to turn, so does our eyeshadow. Define your brows using eyebrow powders for a subtle finish or pencils to etch out a harder shape.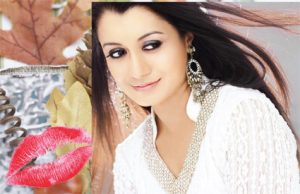 On the lid for a maximum pop of colour try using a cream base first followed by a touch of loose shadow on top, in a copper or antique gold colour and watch how your eyes will lift and sparkle. Do the same in your inner corners with a lighter shade to highlight and wait for the compliments to come pouring in. Colour choices for this season are champagne (for inner corners) and bronze.
*Lips: Berry and burnt orange toned reds are staple and will complement the chosen eye shades beautifully. Keep it matte for autumn-winter, glossier for spring-summer.
*Keep your make-up to a bare minimum. Humidity and frequent downpours can accelerate oil-secretion, so, using non-greasy and light make-up provides a clean matte finish. Also, always opt for waterproof brands.
The thought of getting drenched in water is so exciting but often women miss out on such fun moments owing to the damaged which rain water later causes to their hair.
The fall season poses a challenge for many to look tip-top all the time, but you can ease your woes by following some tips for your hair and skin.
Visit a spa or salon once in a while to rejuvenate. Monsoon weather can wreak havoc on your hair. Avoid dryness.
Avoid chemical treatment: Don't go for any kind of chemical treatment on hair during monsoon as the chemicals used on the hair react adversely to the rain water leading to severe damages.
Balace protein in diet: Since hair is made of protein, ensure that you maintain a balanced protein diet. A portion of good seasonal fruits, green leafy vegetables, cereals and coconut water in your diet must be included. Try and pull together your hair in a soft band rather than using any metallic clips as they tend to break your hair.
Get funky with your hair colour this monsoon. Get an ombre look or highlight your hair with full head highlights or colour stripping treatments.
* During monsoon, the hair becomes limp and loses its sheen. So, a trip to the salon for a Protein Restore Treatment will never leave you disappointed. Also, tame your tresses with an oil massage.