Tesla –Electric cars that are changing the world!
Imagine – an all- electric cars that look like a supercar, but emits no exhaust, uses no gasoline, is almost silent and offering a range of over 400 kilometers on a single battery charge, operated by software that's updated every day automatically? Imagine a car that can virtually drive itself anywhere? Well, the dream is a reality as the Tesla range of all-electric cars are a reality and have already adopted this kind of technology. You might have seen them – but rarely – sleek, expensive looking cars with flush fit door handles and slippery looking bodies. Founded in 2003 and named after esteemed AC electric motor inventor Nikola Tesla, the Silicon Valley firm Tesla cars, headed by the larger than life CEO, Elon wanted to prove that electric cars could be better than gasoline-powered cars. Tesla's first car was the Tesla Roadster, launched in 2008. Accelerating from 0 to 60 mph in 3.7 seconds and achieving a range of 245 miles per charge of its lithium-ion battery, the Roadster set a new standard for electric mobility. The current Tesla electric car model lineup had improved since 2014 when Tesla's CEO Elon Musk unveiled two dual motor all-wheel drive configurations and the introduction of new models that expand Tesla vehicle's technology, handling, and performance. For 2017, Tesla now offers three models,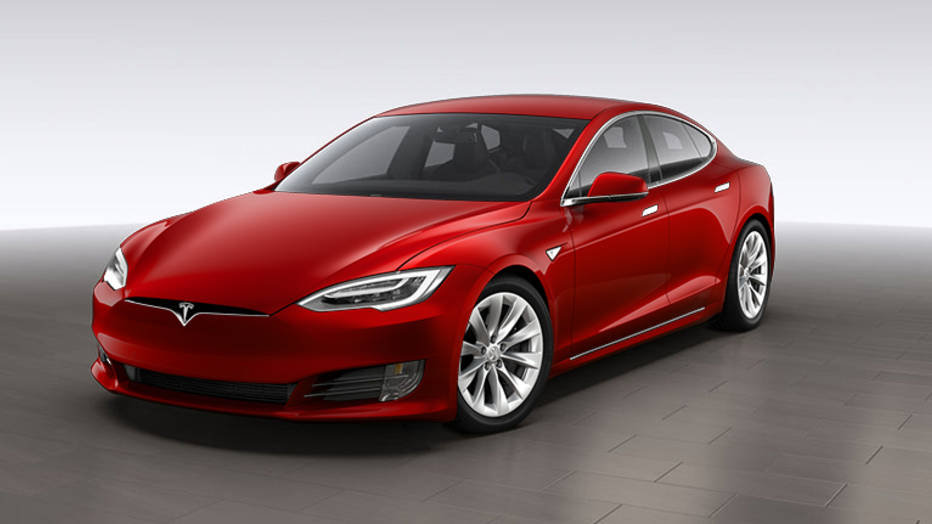 Tesla Model S
The premium, luxury, and performance focused Tesla Motor Model S sedan (Base priced from $87,300) is a definite improvement on conventional all-wheel-drive systems. With two motors, one in the front and one in the rear, the electric-powered Model S sport sedan digitally and independently controls torque to the front and rear wheels. Rear-drive is standard on the 70 and 85 series. All-wheel drive is available, changing the designations to 70D and 85D. The P (Performance) 85D comes standard with all-wheel drive and the Dual Motor, pairing the high-performance rear motor with a high-efficiency front motor to achieve supercar acceleration — from zero to 100 kilometres an hour in about three seconds. Vehicle range before the S needs recharging varies from 385 kilometres to 425 km is claimed. The car is now available with optional third-row seats.
Tesla Model X
The Tesla Model X – is a long-awaited, seven-seat sport-utility vehicle. The new electric car is claimed to be the safest, fastest and most capable SUV ever. Two versions are being offered — the 90D and P90D (P for "performance"). A dual-motor setup digitally and independently controls torque to the front and rear wheels, giving the Model X all-wheel drive. In P90D form, the front motor is rated at 259 horsepower, while the rear punches in at 503. Combined, the Model X pumps out 713 lb.-ft. of torque. With "Ludicrous" mode engaged, Tesla says the Model X sprints to 96 km/h in 3.2 seconds.   With all-wheel drive and a 100 kWh battery providing 465 kilometers of range, Model X has ample seating for seven adults and all of their gear. The Model X's most notable feature is its gull-wing doors — "falcon wing" in Tesla lingua franca — that swing up and out of the way.
Tesla Model 3
Perhaps the most highly anticipated car from Tesla, the upcoming Model 3 sedan, is touted as the most affordable Tesla four-door sedan and the one which will deliver electric car affordability to everyone. Slated to begin production in late 2017, the Model 3 fulfills Musk's longstanding vision of accelerating the world's transition to sustainable transportation. The Tesla Model 3 combines real world range, performance, safety, and spaciousness into a premium sedan that achieves 345 km of range per charge while starting at only $35,000 USD before incentives. (Canadian pricing to be announced). The Model 3 is designed to attain the highest safety ratings in every category. About 373,000 pre-orders for the Model 3 have been placed, according to figures Tesla as of May 2016.
Tesla prides itself on technology, and after pushing the auto industry along toward an electric future, Elon Musk wants to put cars on an accelerated path to driving autonomously, equipping each new Tesla model with the hardware needed for full self-driving capability. Tesla's Autopilot system has already been available on models built since October 2014, roughly 114,000 vehicles worldwide. While the company pivots to the latest hardware, new models will temporarily lack features including automatic braking, collision warnings, lane keeping and active cruise control. Eventually, buyers will now have two options when buying a Tesla vehicle: an improved version of Autopilot, or full self-driving according to Tesla. Musk said in a tweet that cars with Tesla Autopilot had driven 222 million cumulative miles in beta road testing. The Autopilot system consists of eight cameras and a dozen sensors in each car to give them 360-degree visibility, according to Tesla. While drivers won't be able to let go of the steering wheel yet, that's an ultimate goal for Tesla.
Tesla owners also enjoy the benefit of electric charging their vehicles at home, so they never have to visit a gas station or spend a cent on gasoline. For long distance journeys, Tesla's Supercharger network provides convenient and free access to high-speed charging, replenishing half a charge in as little as 20 minutes. Superchargers now connect popular routes in North America, Europe, and Asia Pacific. The future of driving is right here and now.