By Veeno Dewan
Your wedding day is and should be the most unforgettable day of the bride and grooms life. The mode of transport is very important. It's what's going to take you to your wedding location, that you probably spent ages deciding on. As there are many places you could have had your wedding at, such as the kitsap memorial state park weddings venue. Another thing to throw in there is the importance of the wedding rings- both being to remember them and the design of it in the lead up to the day. If you are having trouble pick a ring for life, then try these out.
Anyway, back to the car.
Details matter and what vehicle you choose to arrive and leave in could be a most enjoyable and exciting moment for the happy couple and the wedding attendees. A nice wedding car shows you have it all covered! It should not only feel great to enter and leave the vehicle, a classic wedding vehicle should catch the eye, make for a great backdrop for wedding photos, and impress the audience.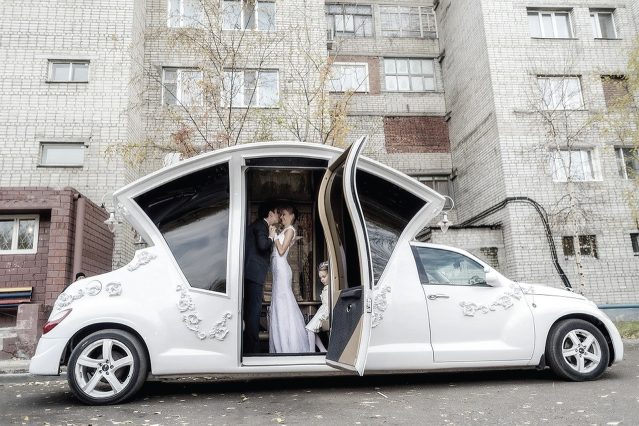 Which wedding car should you choose?
There is a popular belief that wedding automobiles have to be luxury vehicles or a limo, however, it's not the 1980"s so keep an open mind! A bride and groom should be free to express their freedom of spirit, and choose a vehicle that will break all existing wedding rules. The choice is huge from classics car, sports cars, SUVS, convertibles, limousines and specialist off-beat cars. There are numerous wedding rental companies that exist to cater for every need.
There's not much to say when looking into wedding automobiles, because it should all focus on design. It's all about looks on wedding day, not performance. Therefore, in this case, technical specifications really have little to no importance, remember beauty is more important than how fats the car goes on this special wedding day. My friend was telling me about the special insurance she got for her wedding car. Its a good idea to get the right insurance. This friend used Insurance 4 MotorTrade but I digress. Here is our guide to choosing a wedding car.
Which Wedding car?
Most couples choose a car that is personal favourite of theirs, while also suiting their overall wedding theme and the constraints of their budget. Here are a few of the (rather fabulous) options to consider before you hire your wedding car.
Classic Limo's
For a classic and formal wedding the most popular choices are still chauffeur driven stretch limousines, Rolls Royce's, Bentleys, and Cadillacs, these are excellent choices and provide plenty of space and luxury for the bridal party or bride and groom. Travelling to your wedding in one of these is guaranteed to make you feel special.
Statement Cars
For couples looking for something quirky for their wedding car, and perhaps wanting to make a statement, there are endless options. Perhaps you want to travel in a classic 1960's Mustang. Or Corvette convertible, an 1950's chrome laden American car, a brightly coloured Hummer or an immaculate vintage Volkswagen Beetle. Let your imagination roam free, and if you are having a themed wedding, your choice of wedding car can be the icing on the cake.
Exotic Sports Cars
Everyone deserves to zip around town in a supercharged sports car, or perhaps something a little exotic, at least once in their lives, so why not on your big day? Imagine arriving at your wedding ceremony in a sleek Aston Martin, a blood red Ferrari or a bright yellow Lamborghini Gallardo. Lamborghini has had its share of popularity in the 1980s and the manufacturer is mostly esteemed for producing fast cars. Any model of Ferrari works. They're red, they're wild and they're as rare as possible. Furthermore, Ferraris speak the language of passion and poetry, whilst Aston Martins add a touch of British elegance and class. On the other hand, a modern Corvette convertible or a Dodge Viper easily draw the WOWO factor.
Family sized
For couples that want to travel with their entire bridal party, there are a few larger options to consider. Perhaps a stretch SUV or a wedding bus, kitted out with all the trimmings you expect from a wedding car could be the way for your families to travel in style. Choose from stretch Hummers, Lincoln Navigators, or Ford Excursions…Just make sure there is room for everyone.
What is fashionable in wedding cars?
Although all types of wedding car are still used, there has, of late, been a return to classic models such as the Rolls Royce, Bentley's and immaculate 1970's Cadillacs limousines. Although white will always be a popular wedding colour, many couples are opting for black. It is sleek, simple and looks great with most wedding themes.
Should we hire a chauffeur?
There are many reasons to have a chauffeur. The most obvious is for the pure indulgence of being able to relax on the back seat and have somebody else worry about directions, traffic, parking and opening the door for you. Having a chauffeur adds class and elegance to the occasion and allows you to concentrate on your big day, your guests, and most importantly your new spouse, while someone else concentrates on the driving. It will also allow you a glass or two of champagne without the worry of drinking and driving.
On the other hand, for couples that just love driving, hiring a fabulous car and having someone else drive can be considered a wasted opportunity. Driving yourselves also gives you more flexibility about where you go and when, and it ensures total privacy, rather than having to include a stranger in your wedding activities.
That said, if you want to drive a luxury car yourself, do it another time. Worrying about all the things associated with driving is rarely worth it on your big day.
When should you hire the wedding car?
Try to choose and book your wedding car at least four to five months before your big day. If you have particular requirements, and need an unusually large car, perhaps because you want to transport your entire bridal party, you may need to book a little sooner. Recommendations based on word of mouth from friends and relatives is a good way to find a reputable company, or you can look up car hire companies in wedding magazines, and on line directories.
If the supplier is providing a chauffeur, you will need to be able to tell them who will be travelling in the car, where they need to be picked up from, and where they are travelling to.
Questions to ask the Car hire Company
Before you go ahead and hire your stretch limousine or classic convertible, here are a few questions to ask your supplier:
•How long has the supplier been in the wedding car business?
•Is the supplier accredited?
•Are the cars registered and insured?
•Can they provide a recent reference for you to call?
•Are the cars maintained and detailed regularly?
•Are the chauffeurs fully uniformed?
•Will the car you see be the one you use, with no substitutes?
•What happens should the car break down?
Finding a reliable supplier and going for quality over price will help to ensure that you arrive at your wedding, calm, relaxed and feeling like the prince and princess that you are. HAVE A GREAT WEDDING DAY!