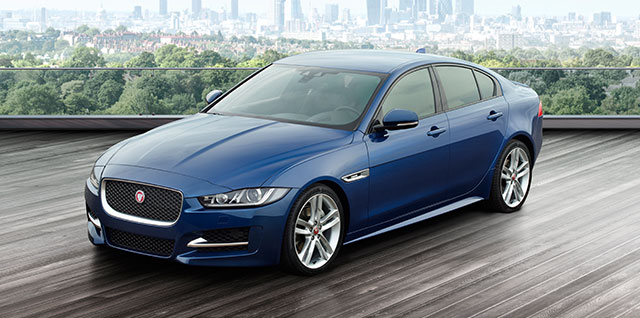 The Jaguar 2016 XE will be the first Jaguar product built on the new advanced aluminum architecture which was showcased in the C-X17 concept car in 2013. This aluminum-intensive structure provides the benefits of lightness and strength for exceptional handling, performance, refinement, and efficiency. The all-new Advanced Aluminum Architecture of the XE delivers premium vehicle characteristics in performance, handling and refinement. This immensely strong body saves weight without compromising durability and provides very high torsional stiffness. It is the ideal platform for a performance car and helps achieve optimum weight distribution approaching 50:50.
Power will be provided by a variety of engines with a broad range of capacities and output, all delivering inspirational performance and offering the latest innovations in fuel-efficient technologies. The new Ingenium engine line will also provide a flexible engine architecture that can be configured to suit in-line and transverse installations and can be used in both rear-wheel drive and all-wheel drive configurations.
Speaking at the Geneva Auto Show, last year, Dr. Ralf Speth, Chief Executive Officer, Jaguar Land Rover, confirmed: "We announced just a few weeks ago that our new Engine Manufacturing Center would produce a new family of premium, lightweight, low-friction, low emission four-cylinder gasoline and diesel units. The first of our Ingenium engine range will be used in our all-new compact Jaguar sports sedan. That car will be called the Jaguar XE, and it will be unveiled in production form later this year."
Ian Callum, Director of Design, said: "The new Jaguar XE is every bit a modern Jaguar car; more compact in size but visually striking. Customers will expect a great deal from a compact Jaguar car – it must be practical but premium."
The latest example of how exciting, advanced, and refined a Jaguar sports sedan can be. The XE is a Jaguar car to its core. The first of a new generation of cars to be launched on a state-of-the-art, all new Advanced Aluminum Architecture developed by Jaguar, the lightweight aluminum construction creates an incredibly strong body, as well helping to deliver power with responsive handling and refinement with beautiful design.
The unique All Surface Progress Control (ASPC) from Jaguar will give XE drivers added confidence in slippery conditions; whether starting from a snowy driveway, parking on an incline, or even driving on wet grass. ASPC is a low-speed cruise control, operating at speeds between 3 km/h and 28 km/h, which helps the XE handle low traction situations and allows drivers to concentrate on steering the vehicle.  Torque Vectoring by Braking maximizes control through the tightest corners. Torque Vectoring technology provides controlled braking on the inside rear wheel delivering outstanding sports car agility and added driver confidence
The latest generation Electric Powered Assisted Steering (EPAS) on the XE sedan is designed to offer precise feedback and control, as well as power assistance the moment you need it. The system adds to driver confidence by communicating the approach of the limits of grip during hard cornering. EPAS allows highly tuned computer control to adapt the levels of steering support: whether giving you excellent control over speed or providing more assistance during slow maneuvering.
JaguarDrive Control allows you to select Standard, Eco, Dynamic or Winter mode, each subtly changing the steering and throttle mapping. Eco mode encourages fuel-efficient driving by offering gear change information and fuel economy feedback; Dynamic mode sharpens the throttle response, increases steering weighting and performs gearshifts more quickly and at higher engine speeds. By selecting Winter mode, the system automatically dampens acceleration and applies more gradual traction for slippery
Packed with systems that empower the driver and enhance the driving experience, the XE rewrites the rules and is a wake-up call for every other car in its class. The name of the Jaguar XE follows the brand's sedan progression, positioned alongside the XF and XJ sedans in the range.
 By Veeno Dewan