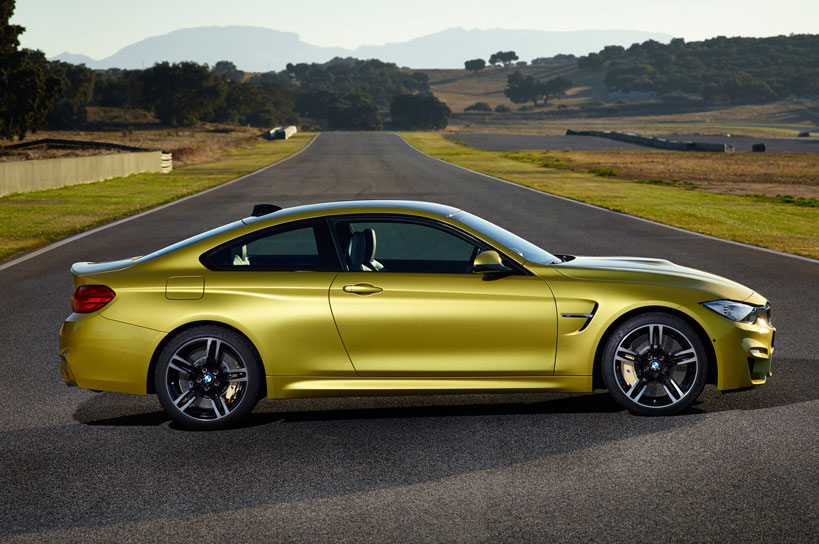 For 2015, the Bavarian prestige and performance car maker's iconic M Series just got a little hotter with the new BMW M4 Coupe – now more powerful, technology-driven, and better in every way.
With its swoopy looks and lighter weight, M4 Coupe carries over its performance chops unadulterated in a shapely new version. BMW went to extreme lengths to make the M4 as light as possible using carbon fiber and aluminum where possible. As a result the 2015 M4 is also faster with a 4.1-second time from 0 -to 100, kph courtesy of a brand new 3.0L twin-turbo straight six engines producing a tremendous 425 horsepower and 406 lb-ft of torque.
Add a near perfect   50:50 weight distribution, 6-speed manual transmission and the classic front engine- rear wheel- drive configuration, and you just can't get any better.
The M4 design is based on the current F32 4-series, but it is longer and wider. The swooping fenders and muscular front hood are made from aluminum while the roof is made from carbon-fibre. The rear trunk-lid and lip spoiler also get the same carbon treatment and reduces lift on the rear tires.
Our particular tester was painted in a dazzling Austin Yellow Metallic hue that has people taking a double take at the gold, yellow-bronze mix.
The M4 interior remains imposing and sports orientated with an overall black theme with carbon fiber detailing, although you can order metal and piano black and even fine wood detail trim. The center console is wrapped in carbon fiber trim. Nice touches include the gear shifter that light up in the dark and plenty of 'M4' logo badges.  The M4 Coupe arrives very well-equipped as standard, however you can load it up with a number of option packs such as the $4,500 Premium Package—adding a backup monitor, front and rear parking sonar, satellite radio, and a head-up display. The $4,500 Executive Package switches the backup camera for the cool surround-view monitor while also adding active LED headlights. Meanwhile, a $1,500 Technology Package offers high beam assist, active blind spot detection, lane departure and collision warning.  Want more? BMW Connected Drive Services Business Package features internet connectivity, real-time traffic info, and a full suite of BMW services and apps.
Other desirable options include such goodies as $3,900 double-clutch automated gearbox, a $900 adaptive M suspension, carbon ceramic brakes (featuring unique gold calipers), $400 automated parking, and more.
As is the case with all new BMW models, a fuel-saving start/stop system shuts the M4's engine down at idle, although this can be switched off. The M4 also features an advanced brake energy regeneration to save power.
This combination of fancy technology and low weight help the latest M Coupe achieve impressive fuel economy numbers despite its high output numbers with 13.7 L/100km in the city, 9.0 on the highway and 11.6 combined for the manual transmission equipped version, according to Transport Canada's new five-cycle rating system.
On the road, the M4's six-speed manual transmission is a delight to use. The perfectly weighted clutch has just the right amount of taking up and bite to execute heel and toe shifting. Snick up and down through the smooth, precise gears and it is a rush to hear the throttle and feel the cars amazing power.
The 3.0L twin-turbo straight six engine is indeed a jewel –producing a stomping 425 horsepower and 406 lb-ft of torque.  The sweet spot is anywhere from around the 4000rpm range, and the torque just keeps coming up to the red-line. The dreaded turbo lag is pretty much absent thanks to the  M4s  anti-lag system that maintains a constant rpm in the twin turbo set up at all times, yet provides an instant boost in demand.  0-100km/h happens in a quick 4.1 seconds and a top speed of 250km/h
Handling through the curves is also sublime, thanks to the M4s super stiff chassis and well calibrated electronic steering. Drivers can opt for three damper parameter settings, Efficiency, Sport, and Sport+ which allow for different driving situations.  Individual driving and engine response settings can also be set via two M buttons mounted on the steering wheel.
As with all performance cars stopping fast is equally important as accelerating and the M4's big drilled and vented four-wheel discs ensure tremendous, controlled stops on all road conditions. There are real vices to speak of; The M4 is the complete package if a frighteningly formidable high-end Coupes is your thing. It is indeed World Class.
2015 BMW M4 Coupe Base Price: $75,000
By Auto Reviewman