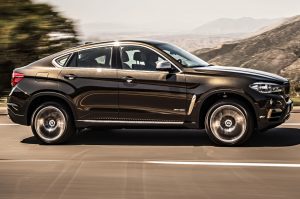 BMW calls the X6 a Sport Activity Coupe and is still a unique looking vehicle with the ability to offer three different vehicle characteristic in one package. For starters: the high stance, ground clearance and tall cabin and four wheel drive offer off road capabilities, the luxurious cabins and high equipment and technology levels offer luxury sedan amenities meanwhile the powerful and performance derived engines and transmissions and suspension setups offer sports car handling.
If you desire even more performance if you opt for the superbly fast X6 M versions. Originally launched in 2008, the X6 has sold than 260,000 units since its debut. You can bet most of them are well-optioned tourers and it does not come cheap. Starting from  a base $66,800 plus. $100,00
There are three models that comprise the X6 lineup: A 3.0L turbo-six producing 300 hp and 300 lb.-ft. of torque in X6 xDrive35i, a 4.4L twin-turbo V8 model with 445 hp and 480 lb.-ft. in the X6 xDrive50i.  For now it looks like only two engine version:  the 3.0L liter turbo and the 4.4.L twin turbo V8 will be on sale in Canada. Note – the V8 now offers 45 more horsepower and 30 lb.-ft. more torque due to some reengineering work. Sole transmission is an 8-speed automatic Steptronic All –wheel drive transmission.
For 2015 there, are some minor changes to this impressively sporty vehicle. The front facia has a sleeker look and the headlights are redesigned with along with the taillights for a more dramatic, aggressive look. New character lines along the sides of the X6 add some tension to the flanks and the section has a sharper crease for more definition.  Side vents in the front fenders are functional allowing air from the vents.  There is also extensive use of lightweight, high-strength steel, an aluminum hood, and plastic fenders for weight reduction.
The X6 cabin is also upgraded with more luxurious touches and technology. It is a sea of smart black high quality plastics, aluminum trim and rich leather. This time around for 2015, there are more contrasting textures and a richer, less stark tactile feel and look to the inside.   BMW calls this new theme its "layered design approach". And it works very well. Technology of course abounds with: All digital gauges, a full-color head-up display shows speed, speed limit, entertainment information and navigation routes and a stand alone 10.2-inch graphic display at the top of the dash accessed via the console mounted controller.  The big comfortable seats and generous leg, shoulder head room means the big X6 can seat up to five people, and with the 40/20/40 rear seats folded down, can increase cargo capacity from 580 L to 1,525 L.
Performance- wise, the X6 xDrive35i offers an zero to 100 km/h acceleration time of 6.4 seconds, whilst the X6 xDrive50i can dash from zero to 100 in 4.8 seconds,
An optional M performance kit and such goodies as optional adaptive suspension comprising variable sway bars and damper can tighten up handling and steering reflexes.
BMW also offers rear wheel torque vectoring using its Dynamic Performance Control, which distributes power between the rear wheels according certain parameters. This is offered as part of Dynamic handling package, which also adds Dynamic Drive active rollbars to the rear to stabilize body roll. An optional rear air suspension provides Dynamic Damper Control.
More performance and better fuel economy is notable due to the reengineered power plant lighter weight and increased drag coefficient reduced from 0.34 to 0.32.  Eco, Comfort, Sport and Sport Plus modes also help driver in fine-tuning performance and fuel economy.
The X6 occupies that rarefied club of exotic high performance club that boasts the Porsche Cayenne, Land Rover Supercharged and AMG Mercedes Benz SUV as members and acquits its self very well.  It offers phenomenal performance in the V8 version and more than ample everyday practicality with 3.0L version.  It also gives owners a unique fastback look and a stylish interior.   The 2015 BMW offers even better value and well though out improvements and is one to put on the shopping list for the New Year!
2015 BMW X6 Sports Activity Vehicle. Priced from  $66,800 plus options