All new 2015 Jaguar XE: Midsize sports sedan will offer more performance, technology and fuel efficiency.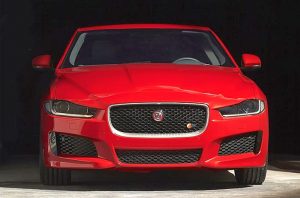 Jaguars  new 2015 XE is a new mid-sized sports-luxury sedan  designed to do batte with the BMW 3 Series, Mercedes C-Class and Audi A4.
The car, due for a world reveal in September 2014 will feature the classic modern interpretation of the Jaguar front visage with an aggressive, looking body not unlike the larger Jaguar XF model.
The new XE will be the first compact Jaguar sedan since the Jaguar X-Type. It will be available in traditional rear-wheel drive as well as four-wheel drive. The XE will take it place below the XF model as a smaller, fuel efficient and more  agile sports sedan.
Of note is the XE's  use of the 'iQ Al' aluminium structure for almost 75% of its construction that is designed to be lighter and stronger than steel material.
Jaguar designers say the light weight will give the car the performance deg over its rivals. Combined with a fuel efficient 2.0 liter "Ingenium" engine, Jag claims the XE  should be it's most fuel miserly and lowest emission vehicle ever – with a  CO2 footprint of less than 100g/km for the base engine.  The compact sports sedan will get an all-new rear-drive platform that can be fitted with optional four-wheel drive.
Jaguar is also expected to offer several engines as well as the turbo four cylinder inclduing a supercharged V-6 with 380 horsepower and a for Europe – only diesel option.
The new Jaguar XE will also make use of lightweight aluminium in its front and rear suspension systems for better handling and steering responses.
The new XE will feature the same highend uxury cabin as the currnet Jaguar line up with such features as  the  Jaguar XE infotainment infographic system- featuring an eight-inch touchscreen and voice control, and the facility to allows iOS and Android smartphone users to access apps via the in-car display. The XE can also offer WiFi remote connectivity.
Meanwhile  Jaguars "InControl Remote" also allows remote  smartphone control over the door locks, climate control and ignition.
Other technology includes driver assist systems, such as a laser enabled head-up display and  systems also allows for active safety kit such as self-parking and active lane-keeping.
The chasiss uses an Integral Link rear suspension set up with super lightweight components and a front suspension derived from that used in the Jaguar F-Type.
Final pricing for Canada is yet to be announced.