By Vineel Dean
In recent years, Canadian beach wedding vacationers and honeymooner have flocked to the Caribbean destination of the Dominican Republic, making it one of the most popular destinations. It's not hard to see why. The Dominican Republic  offers fantastic weather, endless spread of white-sandy beaches, sparkling blue seas, and is one of the most beautiful and diverse parts of the Caribbean, showcasing everything from tropical rainforests and alpine ranges to mangrove swamps and semi-desert. Mountain-bikers, golfers, windsurfers, hikers, climbers and other adventure junkies are well catered for.  The Dominican Republic is also one of the more affordable destinations in the Caribbean, with a wide range of   accommodation, and not so affordable exclusive type resorts. The Republic has also become a popular destination for all-inclusive beach front wedding packages and a top honeymoon destination.
The Dominican Republic is not just scenery, the country also teems with culture, music and history. The rhythms of merengue and bachata music are the soundtrack for the country on the streets and in the capital city of Santo Domingo where nightclubs play the country's heady music all night long. But there is also culture and history, with Colonial-era churches, old forts and historic towns and quaint villages in the Dominican Republic's interior.
While it's a large country by Caribbean standards, it remains relatively easy to combine different elements of the destination on one itinerary. And whether you're here for the beaches, the music, the countryside or the culture, the Dominican Republic has it all!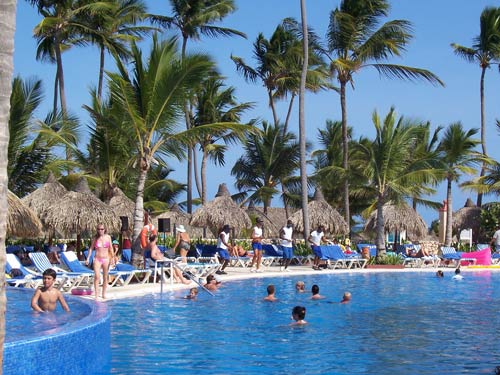 When to go and getting there:
The Dominican Republic has tropical temperatures all year with coastal areas being warmer than central regions. There are two rainy seasons, with occasional hurricanes; the heaviest is from May to August and the other is from November to December.  Canadians are well served with flights to the Dominican Republic. Air Canada, WestJet, Sunwing and Air Transat all fly to the Islands two airports, either to: Puerto Plata Gregorio Luperón Airport or Punta Cana International Airport.
 Crime and safety:
The Dominican Republic is friendly and welcoming, but suffers from a high crime rate. If you leave your hotel complex, don't wear expensive jewellery or carry large amounts of cash or expensive items like cameras. Use a hotel safes whenever possible. The sea can be dangerous during the tropical storm season. Seek local advice about sea conditions and warning systems and follow instructions if planning water sports. Check safety standards and make sure you're insured if you take part in activities like water sports, quad biking, horse riding etc. If in doubt seek advice from your tour operator.
Getting around
Tourist taxis are safer and more reliable than private ones. Public transport can be unsafe, but private companies operate good bus services between cities. It is easy to hire a car in the Dominican Republic, but road safety is a concern   and it is advisable not to drive at night.
Passport and visas:
A passport valid for six months is required by all nationals referred to in the chart above to enter the Dominican Republic. Canadians do not require a visa, but they do require a tourist card. You can buy this in advance from the embassy or at the airport. Tourist cards are valid for 30 days from the date of entry.
Food and Drink:
Native Dominican cooking combines Spanish and African influences with local produce. There is plenty of fresh fish and seafood, and the most popular meats are beef, chicken, and pork. Island-grown tomatoes, lettuce, papaya, mangoes, passion fruit and citrus fruits are delicious, while rice, yucca, and sweet potatoes are staples.  Locally produced beer and rums are cheaper than imported alcohol, which tends to be expensive. The legal drinking age is 18. Hotel and restaurant bills automatically include a 10% service charge (on top of a 12% tax), but an additional tip may be given as an appreciation of good service.
Health and vaccinations
Health insurance (to include emergency repatriation) is strongly recommended. Medical care is limited and variable in quality. All water should be regarded as being potentially contaminated and sterilisation should be considered essential. Water used for drinking, brushing teeth or making ice should have first been boiled or otherwise sterilised. Milk is pasteurised. Only eat well-cooked meat and fish. Vegetables should be cooked and fruit peeled.
Vaccinations for tuberculosis and hepatitis B are sometimes recommended. Bilharzia (schistosomiasis) is endemic; avoid swimming and paddling in fresh water. Outbreaks of dengue fever occur in the area. Rabies may be present. For those at high risk, vaccination before arrival should be considered. If you are bitten, seek medical advice without delay.