KAJU PISTA ROLL
Cashewnut roll stuffed with pistachio powder
INGREDIENTS
Cashewnuts- 250 grams
Pistachios- 3 1/2 tablespoons
Rose essence -few drops
Powdered sugar- 1 tablespoon
Sugar- 3/4 cup
Silver warq -as required
METHOD
Preheat the oven to 100°C. Dry roast the cashewnuts and pistachios separately in the oven for ten minutes and set aside to cool completely. Grind the cashewnuts and pistachios separately in to fine powder, taking care that no lumps are formed. Add the rose essence to the cashewnut powder and mix. Add the powdered sugar to the pistachio powder and mix. Heat sugar with three and a half tablespoons of water and cook until one string consistency syrup is formed. Cool it slightly and add it to the cashewnut powder and knead into a dough. Divide the dough into equal portions and roll out thin roundel between two plastic sheets. Sprinkle the pistachio powder on the cashewnut roundels and roll it tightly. Decorate with varq, cut into two inch long pieces and serve.
Eggless Banana Muffins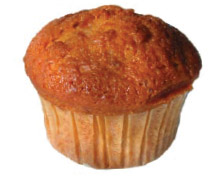 Ingredients:
• Flour – 3/4 cup minus 1 tbsp (125 gms)
• Banana – 2 big sized (I used moris yellow variety like the ones in the pics)
• Oil – 1/4 cup (60 ml) – You can replace with butter too• Granulated Sugar – 1/4 cup + 2 tbsp (65 gms)
• Baking powder – 1/2 tsp
• Vanilla essence – 1/2 tsp (optional)
• Walnut finely chopped – 2 tbsp
Method: 
1. Sieve maida, baking soda and baking powder atleast twice, keep aside.
2. Peel the skin of the ban
ana and mash them well (I grinded it to a smooth paste). Add oil, milk, vanilla essence and mix well. Fold in sugar and mix well until sugar completely dissolves.
3 Add sieved maida , baking powder and baking soda mixture and mix well until a creamy mixture is formed. Add the chopped walnuts, reserve little for topping.
4. Preaheat oven to 190 deg C. Meanwhile spoon the mixture in the muffin tray till 3/4th, add in the remaining walnuts and bake it for 20-27mins. Check in after 25mins and bake accordingly.