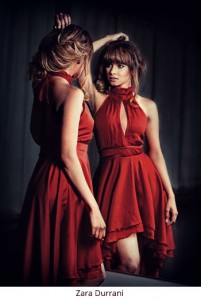 Tell us about Life & Style with Zara
Life & Style with Zara was conceived after I studied yoga in Bali. I was working on VanEssence a fashion and arts focused show and I wondered if it was possible to mix entertainment and spirituality. I'm a huge fan of Oprah like many women around the world, but I felt there wasn't  anything on national television that spoke to a younger audience. I aimed to create a show that had that intimate feeling Oprah creates yet mixed with a dash of Entertainment Tonight glam. I was very blessed to see the show air nationally on Joy TV, CHEK, and locally on Shaw and Novus. I had the opportunity to meet amazing personalities from all walks of life who are creating big changes in the world today. Originally, i created the show with the hopes of inspiring our audience, but i think deep down inside I wanted to be inspired. It's hard not to be moved when you get to sit down and have deep conversations on television with people like David & Severn Suzuki, Bif Naked, Adam Beach, Miss America Nina Davuluri, Jay DeMerit among many others.
What inspired you to take the show to Los Angeles?
I felt it was time to move the show to American shores and the right opportunity came along. We are excited to do a more edgier version of the show in Los Angeles. It will be produced by Deji LaRay's production company Artistar.
You have interviewed many celebrities, is there a particular person that stands out in your memory?
I was truly moved by Bif Naked and will always have a soft spot for her in my heart. She was truly generous with her time. We were allowed only 30 minutes of her time originally as per her manager. She ended up staying with us for over an hour. She Along with being a successful television host you are also an actress. Congratulations on your Guest Star role on the award winning show Psych and Arrow, earlier this year.
How do you switch gears from being a television host, model to and then to an actress?
You've got so much on your plate. How do you manage to do it all? I'm making it a point to read before going to bed so i can switch off my brain from work mode. I also work with several coaches to help me stay on track in terms of my career and goals. I do make an effort to focus on each day as it comes even though I'm always planning ahead. I do truly love what I do, and once you find something that sets your soul on fire you become more willing to put in that extra effort and time.
Do you have a favorite workout or type of exercise?
I have been practicing yoga on and off for the last few years along with meditation. But not I'm adding boxing and soul cycle to the mix. I'm very excited for Spin Society to open in Vancouver. It's really easy to skip workouts and enjoy that extra piece of chocolate, so i'm making an effort to keep my workouts varied as i get bored very easily. Also I wear Firma EnergyWear while working out, they have bio-active crystals woven in the fabric which help improve blood circulation and tone up the body. So i'm hoping to get in killer shape this winter!
You have a very unique sense of style. How would you describe your style? Do you have any style icons?
I really enjoy meshing masculine and feminine energy. So i'd wear a beautiful vintage dress with Frye boots. If i'm wearing a sari, i'd wear my hair in a faux hawk. I don't try to copy what trends are going on. I'm normally the last person to follow a trend. That's why i love vintage fashion so much. For style my advice is to try many different things and see what works for you. But don't wear it just because it's in vogue right now.
What advice would you give to aspiring actors or anyone wanting to get into the entertainment industry?
My advice would be to never let anyone tell you, you can't do something. Stay connected with your inner fire, the desire to succeed and create. Don't wait for the work to come to you – go out there and create your own work. Stay hungry, stay foolish – and don't be afraid of making mistakes!