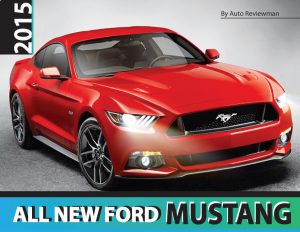 The next chapter in the life of the iconic pony car begins   as the all-new 2015 Ford Mustang, loaded with innovative technologies and delivering world-class levels of performance, was  simultaneously revealed around the globe in six cities on four different continents.
"Ford Mustang inspires passion like no other car," said Raj Nair, Ford group vice president, global product development. "The visceral look, sound and performance of Mustang resonates with people, even if they've never driven one. Mustang is definitely more than just a car – it is the heart and soul of Ford."
Mustang's impact goes well beyond the 9 million-plus cars sold during its 50 years of continuous production. It is the world's most-liked vehicle on Facebook, with thousands of appearances in film, television, music and video games. For the first time ever, Ford will bring Mustang to customers in key parts of Europe and Asia.
The clean-sheet design of both Mustang fastback and convertible evokes the essential character of the brand, retaining key design elements including the long sculpted hood and short rear deck with a contemporary execution.
"You only get one chance to make a first impression and when you see this car, you immediately see a Mustang strong and true," said Moray Callum, Ford executive director, design, The Americas. Several key design features define the all-new Mustang, including: A lower, wider stance with a reduction in roof height, wider rear fenders and track width, The return of Mustang fastback with a sleeker profile enabled by more steeply sloped windshield and rear glass, Three-dimensional, tri-bar tail lamps with sequential turn signals, Contemporary execution of the signature shark-bite front fascia and trapezoidal grille.
Mustang convertible drivers will appreciate the standard multilayer insulated cloth top that gives the car a more upscale appearance and a quieter cabin. The new top lowers twice as fast as before, and has a sleeker profile when folded for open-air motoring.  The information and controls that an active driver needs are all readily accessible in the aviation-inspired cockpit, which is executed with the highest degree of craftsmanship ever found in a Mustang. Large, clear instrumentation that puts vehicle information right in front of the driver in the roomier cabin while improved ergonomics and tactile switches and knobs provide better control. The added width and new rear suspension contribute to improved shoulder and hip room for passengers and a more usefully shaped trunk that can accommodate two golf bags.
The way Mustang looks, drives and sounds is key to the visceral experience that makes drivers want to just get in and hit the road. With more options to choose from, there is a Mustang to fit any lifestyle. The upgraded V6 and V8 are joined this year by an all-new 2.3-litre EcoBoost® engine that brings state-of-the-art technology to Mustang.  Mustang GT continues with the latest edition of the throaty 5.0-litre V8, now featuring an upgraded valve train and cylinder heads that yield more than 420 horsepower and 396 lb.-ft. of torque. A new intake manifold improves low-speed breathing for better fuel economy, idle stability and emissions.
The Mustang EcoBoost engine uses direct injection, variable cam timing and turbocharging to deliver plenty of usable performance and projected segment-leading fuel efficiency. A unique intake manifold and turbocharger housing enable it to deliver the performance Mustang drivers expect with output projected at more than 305 horsepower and 300 lb.-ft. of torque. With at least 300 horsepower and 270 lb.-ft. of torque on tap from the standard 3.7-litre V6, even the most accessible Mustang delivers the performance customers expect.
Mustang features all-new front and rear suspension systems. At the front, a new perimeter subframe helps to stiffen the front structure while reducing mass, providing a better foundation for more predictable wheel control that benefits handling, steering and ride.  At the rear is an all-new integral-link independent rear suspension. The geometry, springs, dampers and bushings all have been specifically modified and tuned for this high-performance application. New aluminum rear knuckles help reduce unsprung mass for improved ride and handling.
The all-new Mustang features a significant amount of innovative technologies providing drivers with enhanced information, control and connectivity when they want it. From Intelligent Access with Push-Button Start to SYNC and MyKey in every Mustang built, plus available Track Apps, MyColour gauges and new Shaker Pro audio system, drivers will be able to customize their time behind the wheel.  The feeling of freedom and confidence that drivers get in Mustang is amplified when they can take control of how it behaves. On a twisty back road or a weekend track day, the driver can tap the toggle switches on the console to quickly adjust steering effort, engine response, and transmission and electronic stability control settings using the available
The new 2015 Ford Mustang goes on sale in the fall of 2014 in Canada. Final pricing to be announced.