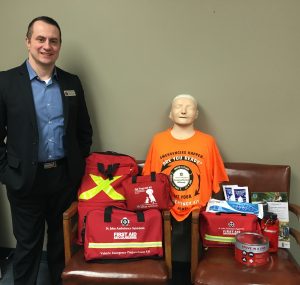 1. Before the unexpected hits, be emergency-ready: Make a plan, get a kit, and stay informed.
We must all be prepared to be self-sufficient for at least 72 hours in an emergency.
In BC, some of the most common emergency situations include:

Extreme weather events
Power outages
Flooding
Wildfires
Earthquakes and tsunamis
Backcountry accidents
Landslides and avalanches
Chemical spills and releases

B.C.'s auditor general (March 2014) has acknowledged that British Columbia is not as prepared as it could be for a disaster, like an earthquake – and that it's everyone's responsibility to be prepared – starting with individuals and their community.
A City of Vancouver questionnaire (May 2014) revealed that only 5% of Vancouverites felt very well prepared for an emergency.
While most people recognize the importance of emergency preparedness, not everyone has actually taken the steps necessary to get themselves and their family prepared.
Experts advise that preparing for an earthquake is a strategic way of preparing for most natural disasters.
Make a Plan

Plan safe exits from your home and neighbourhood
Establish a family meeting place – or better yet, three – to reunite with family in case of a disaster event
Determine an out-of-area emergency contact who everyone can call to check in.

Get a Kit

An emergency kit is essential to your short-term survival – whether you're forced to evacuate your neighbourhood or shelter-in-place
Keep one in your home, ideally one for each person in the household, and one in your car
Kit should contain:

food and water
communication
flashlight
warmth and clothing
first aid kit
cooking supplies
tools and hardware
personal items such as medication
cash in case of power outages.

Stay Informed

Listen to the radio for updates and any evacuation alerts
Familiarize yourself with your home insurance policy
Learn first aid
Find practical information – St. John Ambulance has downloadable lists available at emergencyready.ca.
2. Your home can be a very risky place in an earthquake, unless you address certain hazards.
do a bit of handiwork both inside and outside your home
identify any hazards and reduce them wherever possible
Most injuries occur from falling objects, and experts say that preparing for an earthquake is also a great strategy for preparing for other types of disasters.
The types of household hazards can be broken down into two categories: structural and non-structural.

STRUCTURAL HOUSEHOLD HAZARDS

What type of home do you live in?

The way your home is built will determine the steps you need to take to make it safer.
For example, there's wood, brick/masonry, or reinforced concrete.
Wood-frame structures have greater survivability during an earthquake, but are more susceptible to damage from fire or flood.

Is your home anchored to the foundation?

How your home is anchored will likely depend on its age.
Building codes have evolved over the years, and newer homes are usually built to better withstand specific risks.
A structure that is anchored to the foundation can better withstand the forces of an earthquake or hurricane.
If your home is not anchored to the foundation, a structural engineer can advise you as to what type of reinforcing is possible

What type of ground is your home sitting on?

Being aware of the type of ground beneath the foundation is also important.
For example, a structure built on bedrock can better withstand the forces of an earthquake, flood, or severe weather than one built on soft soil or till.

NON-STRUCTURAL HOUSEHOLD HAZARDS

Shelves, cabinets, and furniture

Identify top-heavy furniture that can topple over, like book cases, dressers, filing cabinets, wardrobes, and TV cabinets.
Wherever possible, secure the furniture to the wall, and rearrange items so that breakable or heavy objects are on the bottom.
Another safety tip is to move beds away from windows, heavy mirrors, pictures, or skylights.
Ideally, furnishings like heavy mirrors and pictures should be anchored.
Also, make sure that you inspect and anchor overhead light fixtures and fans.
Finally, consider installing safety glass or adding a protective film to your windows.

Water heater

A water heater can weigh about 350 pounds when full.
In the event of an earthquake, the floor on which it stands can move out from under the heater, causing it to topple.
Ensure that your water heater is secured with steel strapping and studs.

Utilities

Make sure everyone in your family knows how to turn off the gas, electricity, and water.
Tag all utilities for quick identification.

Gas

Ensure that you know the location of the main gas valve and how to turn it off.
In an emergency, the main gas valve should be turned off only if you (a) smell gas or (b) are instructed to do so by emergency officials.
Keep in mind that only the gas company can turn the gas back on.

Electricity

All electrical wires within the home branch off into a main electrical box, and will be either one of two types: a breaker box or a fuse box.
A breaker box uses breakers or switches, whereas a fuse box uses fuse cartridges which twist into place.
Both types of boxes have a main switch to shut off electricity to your entire home.
In the event of an evacuation, turning off your power will reduce the risk of fire damage that could result when the power comes back on.

Water

Your water supply can be turned off at two locations: at the main outside shut-off, which controls the water flow to the entire property; or at the main inside shut-off leading into the home.
If you need an emergency source of water, it is better to turn off the water here, because it will conserve the supply to your water heater.
3. SJA OVERVIEW
St. John Ambulance is a charity

charitable non-profit or charity organization

Community service is the backbone of St. John Ambulance

proceeds from training and product sales help fund vital community services

Emergency response
First aid services
Youth programs
Therapy dog services

SJA Online