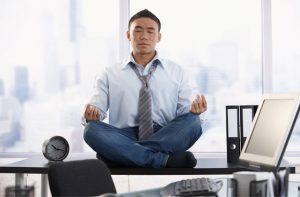 It is widely known that the keys to health are diet and exercise.  Many people work in demanding and stressful environments where their day consists of long hours, sitting for extended periods of time, and long commutes.  When the work day is over, these valued employees may then deal with children, a sick relative, or furthering their education.  Therefore, very little time is left over for exercise, and what should be a priority in their life is often forgotten about.
You know by now that yoga is not just a fad.  Yoga is the best option for dealing with stress and many of the common injuries overworked employees may be suffering from.  The benefits are so widespread that it would be a mistake not to consider offering yoga classes in your workplace.  Below are 5 reasons why you should make this consideration, and take your company to the next level.
1. MORE PRODUCTIVE EMPLOYEES
Yoga inversions bring a lot of new oxygenated blood to the brain, which will increase mental clarity throughout the day.  Creative juices start to flow when your body and mind begin to release mental blocks.  Yoga is also a team building experience, which will bring members of your workforce together.  A stronger bond between employees will lead to increased productivity overall.
2. HAPPIER/HEALTHIER EMPLOYEES
Hootsuite was rated the #1 place to work in British Columbia.  It is no secret that they offer yoga classes to their employees.  By showing your employees that you care about their health, they are more likely to come to work with a positive attitude.
Health hazards from sitting at a desk all day include brain fog and muscle degeneration.  Prolonged sitting is linked to high blood pressure and elevated cholesterol.  Minimal movement will result in poor circulation.  I could go on but the reality of it is simply this; people need to get up and get moving. 
If yoga is made available during work hours, your employees are more likely to attend than if expected to do so on their own time.  Also, your decision to support healthy lifestyle may influence your employees to make healthy choices outside of work as well.  Yoga is a great way to increase endorphins, which will leave them feeling revitalized, at ease, and therefore happy.
3.  REDUCED STRESS/FEWER SICK DAYS
In a recent survey, 1 in 4 people reported feeling stressed at work.    Most people get sick around the time of year when they are most stressed, such as accountants during tax season.  Experiencing stress over a long period of time can result in a long-term drain on the body, which leaves it vulnerable to sickness and flu.
Yoga is known to reduce tension and stress in the body.  In a recent client survey, 80% reported feeling less stressed at work since adding yoga to their weekly schedule.  Let's face it, the less stressed out your employees are, the less likely they are to call in sick.
4. MORE COMPETITIVE WORKPLACE
Offering yoga will attract health conscious, productive, and capable employees.  This will contribute to the overall wellbeing of the workplace and it will also make your company a very desirable place to do business.
According to the Okanagan Staffing Services, the ten qualities people look for in the workplace are communication, respect, trust, appreciation, positive morale, goals, purpose, growth, productive correction, and leadership.  Offering yoga will show that you respect the health and wellness of your employee, appreciate them,  and create positive morale in the workplace.  Attending the yoga classes with your team would demonstrate leadership and help to break down any boss-employee barriers that may exist.
5. MAKE MONEY AND SAVE MONEY
A healthier, happier, and more productive workforce will benefit your company financially.   Reduced stress and injury prevention will result in fewer sick days, which will in turn save you the employer money.
It is clear that people who live in Vancouver and the surrounding area care about their health and overall well being.  We are often resistant to change but as the world around us evolves, we must be willing to change with it.  At the end of the day, the choice is yours but should you choose to add yoga, your people will be forever grateful and your company will be seen as a company moving forward.
Written by: Deidre Sirianni
Owner of Yoga Rush
 www.yogarush.ca