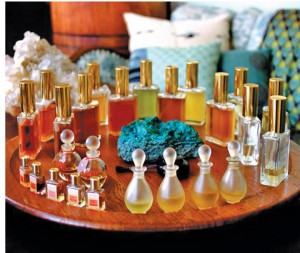 While modern-day perfume-making began somewhere around the 19th century, evidence of perfume usage has been found in some of the oldest civilizations of the world. Some scents appeal to women's sensibilities and some to men's and hence, experts sort each fragrance into a category.
Fragrance Families
The different types or categories of fragrances are called fragrance families. A fragrance is categorized based on the kind of ingredients that are present in it. The four main categories or fragrance families according to classic cataloguing are Floral, Fresh, Woody and Oriental. These ingredients lend particular qualities to the fragrances making them appeal to males, females or sometimes, both genders. "The main family for women is Floral and Woody for men. These are then classified into different kinds of floral or woody perfumes."
Differences Between…
Fragrances can be differentiated depending on the concentration. This means that the intensity of a particular scent is directly related to the concentration of essential oils or perfume oils used in it. The most common types include:
Perfume: This refers to pure perfume and is the highest in concentration of perfume oils. In some cases it contains between 15 per cent to 30 per cent of the perfume oils, giving it a very strong scent. It also lasts for very long.
Eau de Parfum: Eau de Parfum is slightly weaker in concentration than pure perfume and contains around 15 per cent of the essential and perfume oils. This makes it long-lasting and typically very expensive.
Eau de Toilette: This type contains about five to eight per cent of perfume oil in the solvent and it carries a lighter fragrance. An Eau de Toilette lasts for a shorter duration and would require reapplication after a few hours.
Eau de Cologne: A masculine fragrance is called an Eau de Cologne and it contains two to five per cent of the perfume oils.
Applying a Fragrance
The idea behind applying a fragrance is to get the maximum benefit from it. Keeping this in mind, one should apply a scent on the pulse points, which radiate the most heat and help carry the fragrance along with it. Behind the ears, on the base of the throat, on your cleavage, and on the insides of your wrists are the best places to spray the scent. A common mistake people make is to rub their wrists together, which breaks down the fragrance, and so it should be avoided at all costs. On the inner elbows and behind the knees (as hot air rises and carries the scent with it) are other ideal places to apply a perfume as well. You can also spritz some perfume into the air and walk through it to achieve a nice, light scent.
Popular ingredients
Floral: Within the floral family, you can further divide the fragrance into soft floral or floral fresh notes and floral intense. Floral fresh can best be described as soft, delicate, youthful and feminine. It is a better choice for younger women and day-wear perfumes. On the other hand, floral intense perfumes are a good option for mature women and as evening-wear perfumes. Some flowers with a strong, sweet smell can add sensuality and intensity to the perfume. These perfumes will often be described as being rich, warm, intense and sensual. Common floral ingredients include lily, jasmine and rose. Rose is probably the most commonly used ingredient in floral scents. It is delicate, feminine, velvety, suave, majestic, soft and potent, all at the same time. Up to 400 components of the rose's fragrance are known, and hence the multitude of reconstructions available at every price. Jasmine is also a popular floral, heady and potent natural ingredient. Its origins can be traced to the mountains of northwest India."
Fresh: Fresh fragrances include those scents which are aquatic-based, green or citrus. The sub-category 'Floral Fruity' is best described as sweet, youthful and playful perfumes. Ingredients like apple, mango, peach and different kinds of berries are a part of this group. Citrus fragrances are one of the oldest categories of fragrances and include compositions of orange, lemon, mandarin, bergamot and grapefruit. They are most often combined with woody, tart notes to make men's fragrances, and with floral notes for women's fragrances and many unisex ones as well. Green notes include grass and leaves along with aromatic notes of rosemary and lavender, for example. They are fresh and light and most often used as day-wear perfumes. Finally, aquatic scents are fresh and inspired by water. "These fragrances are oceanic, fresh, vegetal and powerful. They are obtained through organic synthesis and calone is a major ingredient on the perfume maker's palette. Its fragrance evokes the exhilarating freshness of seawater spray. Although a synthetic raw material, calone is a petrochemical product whose creation has allowed perfume makers to reproduce the scent of water, which is impossible to obtain by natural extraction. It can be found in both men's and women's perfumes.
Woody: This fragrance category deals with mostly men's perfumes and refers to the strongly scented spices and woods like cedar, oak moss, patchouli, pine, sandalwood, and vetiver. These fragrances will always have spices to give you a fragrance that is classic, masculine and strong. This is a classic male family which might also have green and herbaceous top notes, and very raw masculine woody heart and base notes.. Simple, straightforward, elegant and mature are words best used to describe this fragrance. A common woody note is cedar wood, "Cedar wood, is dry, mild, harmonious, warm, and has a slightly leathery scent. It is mostly found in middle notes. A natural raw material, the sawdust is extracted using the steam distillation process. Oriental: Described as opulent, rich and warm, oriental fragrances include intensely strong ingredients like musk, vanilla, exotic flowers and spices. It can be sub-classified into soft oriental, floral oriental and woody oriental.